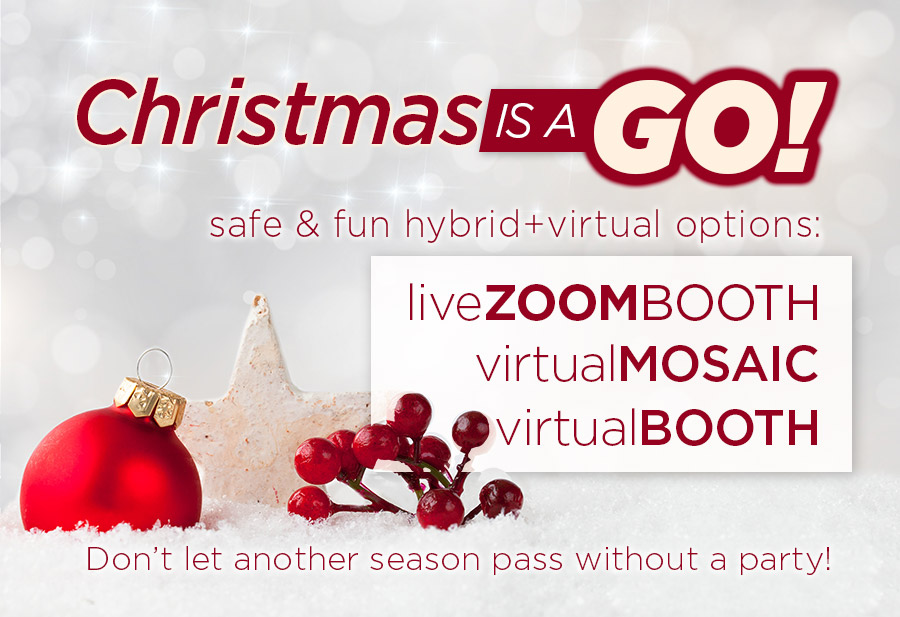 COVID is NO Reason to Cancel!
Over the last 2 years we've learned a lot on how to do business in our new reality. And the reality is, you can still have a safe live photo activation, or a fun hybrid or virtual event.
Below, are details about some virtual and hybrid services we offer. 
Live "Zoom" Virtual Booth
Based on the our mirror booth experience, the mirror booth becomes a live participant on your Zoom call which guests can interact with by scanning a QR code on their phones and uploading a photo. The resulting photo appears on Zoom for all to enjoy. This can also be implemented on platforms other than Zoom. Here are a two candid examples from behind the scenes:
Web Virtual Booth
Upload your photos to the virtual booth interface through any internet connected device. Place yourself into a range of photo or boomerang designs with background removal options, and share your resulting image to email, text or social media.
Hybrid / Virtual Mosaic
Our Mosaic Photo Wall technology is super flexible and able to incorporate photo submissions from a range of sources (on-site cameras, SMS selfies, web forms, Instagram posts, preset image libraries, etc) and output the mosaic visuals to a TV screen or a web URL. Therefore, we can accommodate our mosaic activations can accommodate everything from massive printed mosaic wall displays, to completely virtual events, and anything in between. 
Contact us to discuss how to implement a photo activation that suited specifically to your needs!