Virtual Mosaic
Adding excitement and engagement to your webinar, broadcast, conference or remote event.
Chat with us!
Celebrate togetherness with "social distance".
Turn that passive audience into active participants, and get them excited about your presentation, brand, or sponsors with a Virtual Mosaic.
A Virtual Mosaic:
entertains and activates your audience
is easy to implement,
frees you from time and size constrains,
showcases your sponsor branding,
provides you with content and engagement on your social media channels
has low execution costs.
1. A Guest Takes a Selfie
and submits it through text message or event specific hashtag…
2. The Software Finds the Ideal Position
for the photo, tints and places it…
3. The Guests Opens a Browser Tab
to see their photo flow into a live 3D slideshow and watch the mosaic come together…
4. And Downloads a High Resolution Keepsake
or receives a copy printed and delivered.
Here are some ideas to get your creative juices flowing and your audience "up and at 'em".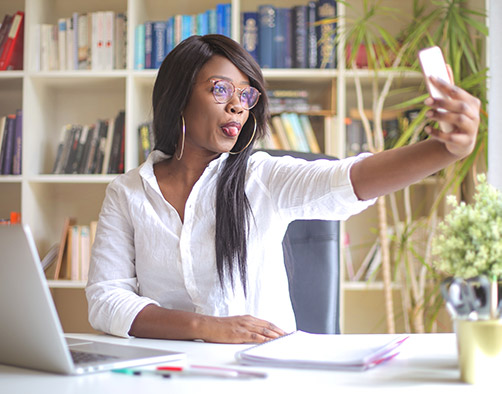 Idea #1 - Interact with your brand
"Take a photo or selfie of you using Brand X in your home or office," or ask patrons to, "Submit photos of tips, tricks and "life hacks" using Brand X." This is a great way to draw attention to your sponsor's brands or products, too.
Idea #2 - Ask for differently themed photos
Space out your guest involvement by asking for differently themed photos during each break. For example…
Mental Health Event:
"Text us a photo of you in your ultimate warm and fuzzy outfit."
"Submit your favourite, gloom-busting beverage."
"Dance like no one's watching!"
Arborist Webinar:
"Instagram a nature photo of you next to a Prunus Virginiana or Malus Angustifolia."
"Submit a photo of our backyard pest to #zone4pest"
Culinary Conference:
"We want to see you using your favourite spice or how you used it in a completed creation".
Charity Event:
"Charity XYZ changed my life by…"
Idea #3 - Create a Contest or Give-away, During or After your event ends
Entice your audience to post relative content with a series of different contests:
Perform draws from photos posted to the mosaic.
Keep the engagement going even after your event ends by posting a download link to your completed high resolution mosaic and ask guests to tell you the coordinates of a specific image(s) you preloaded into the mosaic.
"Where's Waldo?"
Mosaic scavenger hunt
We'll design a beautiful master mosaic graphic that will impress your guests and serve as timeless reminder of your virtual event.
Guests can text us their photos (selfies or other contact as directed by you) for inclusion into the final mosaic.
Preload your mosaic with company images, staff and customer photos, pictures of your facilities, and product shots & past events. Add sponsor logos, too!
Guests can watch their submitted photos stream into a live 3D slideshow presentation of the mosaic in a browser tab.
With an event-specific hashtag on Twitter & Instagram, when guests tag your event, we'll moderate and pull that photo into the mosaic.
Clients receive a digital download of the final high resolution mosaic file. Downloads can be made available to your guests, too.
…and how it comes together.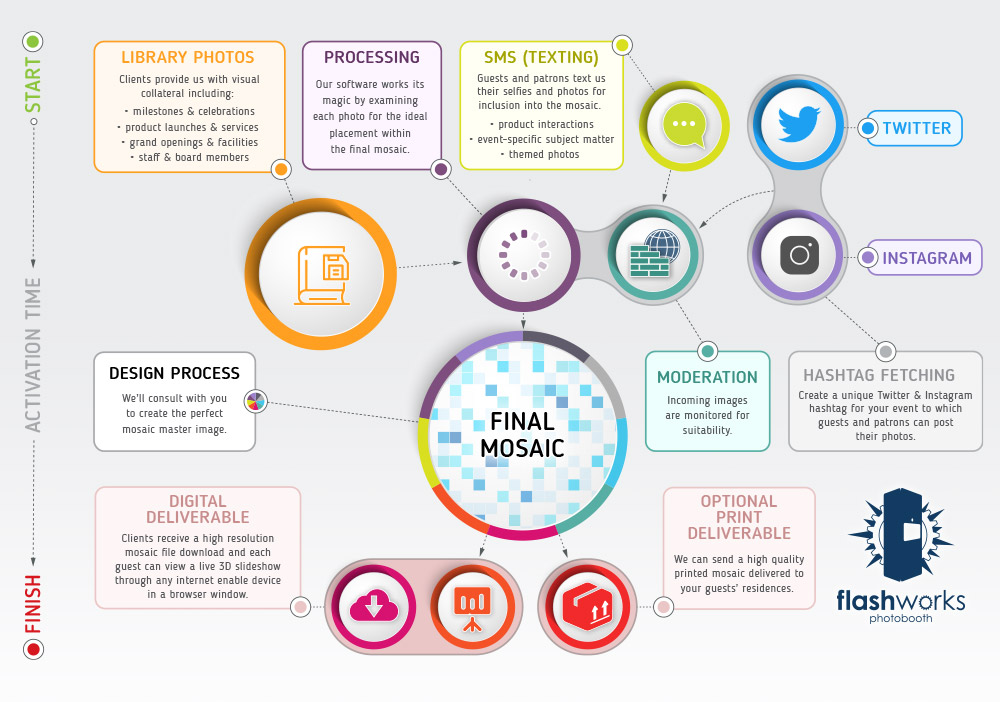 Want a physical mosaic delivered?
We can have the final mosaic printed, mounted and/or framed according to your specifications and sent to your doorstep.
If you've collected address information for your event attendees, we can mail out printed copies of the mosaic. 
Ready to Rock?
Get it touch with us to discuss how you'd like to implement your Virtual Mosaic.
Each activation is unique to your master image and how you'd like your guests to participate with it.