Commemorate Student Milestones.
School is hard work. So is living through a pandemic. Let's celebrate their accomplishments with an event they won't forget.
With cancelled Farewells and Convocations,
give your grads an awesome
mosaic keepsake.
1. A Student Takes a Selfie
or sends us a class photo via SMS or hashtag…
2. The Software Finds the Ideal Position
for the photo, tints and places it…
3. The Student Opens a Browser Tab
to see their photo flow into a live 3D slideshow and watch the mosaic come together…
4. And Downloads a High Resolution Keepsake
or receives a copy printed and delivered.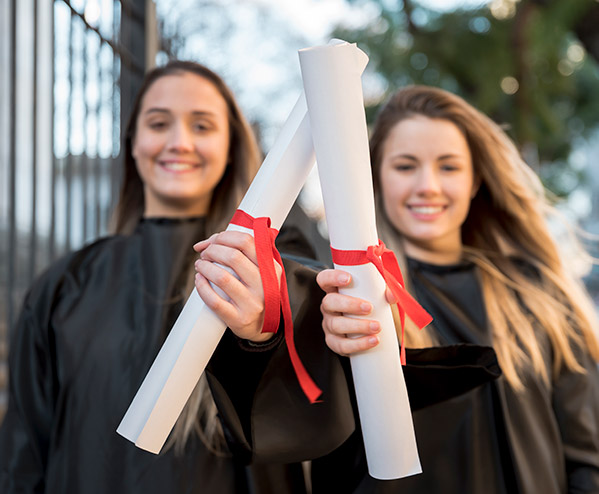 How does this masterpiece come together?
1. Students text us their images
As the client, we'll provide you with a phone number that your students can text to submit their favourite school-related photos. They can be photos with friends, a cute baby photo, or memories from a field trip or fun assignment.
Twitter and Instagram: We can also implement Twitter and Instagram hashtag fetching for high-school students. Using an event-specific hashtag (ie: #grad2020YourHS), we can pull in photos (we moderate them) and process them into the mosaic.
2. Teachers Submit their class photos
Teachers and staff provide us with images from the last few school years featuring the departing students. Good subject matter is field trips & activities, projects & assignments, presentations & ceremonies, classroom & facilities. We'll need these ahead of time and will use them as "library" bank of photos for your mosaic.
3. The software finds the ideal position of each image
Our software analyzes each image and determines its ideal placement within the mosaic. It colours, tints and changes the opacity of each photo.
4. Live 3D slideshow
As our software processes each photo submission, it's uploaded to a live 3D slideshow that's viewable in any web browser. Students and staff can view their photos being added to mosaic in real-time.
5. The Master mosaic image is revealed
Weeks ahead of your activation, we'll create the perfect master mosaic image using your school logo or other themed graphic. This is the final image that's being revealed, tile-by-tile during your event.
6. Hi-Res Downloads for all
When your mosaic is complete, you'll be provided with a high resolution file of your mosaic. We'll provide you with a link to share the mosaic with all the students and their families.
7. Printed and Delivered
We can have your large final mosaic (typically 30″ x 30″) printed and delivered to your school. Mounting and framing options are also available.
If you want each departing student to receive a smaller printed keepsake to go along with their digital download, we can do that too!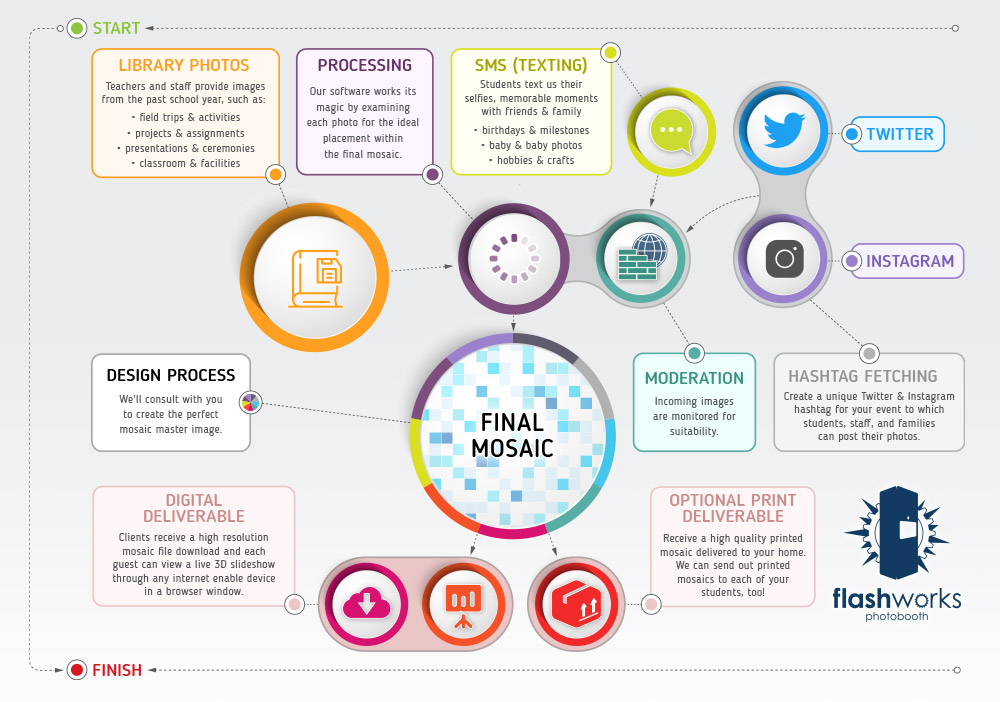 Implementation Ideas
Add the mosaic to a larger "virtual evening" in place of a conventional slideshow. Ask us about facilitating a Zoom Celebration for your grad class.
Turn the mosaic into to a class project and let students chat about it via Google Classroom or Microsoft Teams.
Want a physical mosaic delivered?
We can have the final mosaic printed, mounted and/or framed according to your specifications and sent to your doorstep.
Digital is nice and instant, but for a keepsake with real "shelf life", each student needs a physical print they can admire.
Ready to Celebrate?
Get it touch with us to discuss how you'd like to implement your Virtual Mosaic.
Each activation is unique to your master image and the amount of students graduating.